MCR was set up in 2009 to manage and operate the RV Song of the Whale, which was launched by the International Fund for Animal Welfare (IFAW) in 2004 to replace an earlier vessel of the same name which IFAW had owned and operated since 1987. Several members of the MCR team worked previously on Song of the Whale for IFAW.
IFAW transferred ownership of Song of the Whale by grant to MCR International in March 2014.
Our team is led by Richard McLanaghan and Anna Moscrop, both of whom have many years experience in marine and cetacean conservation and research and outreach activities for a range of organisations; most recently, both worked for over 15 years for the International Fund for Animal Welfare (IFAW).
Working with a wide range of collaborators and partners
including Government departments and intergovernmental agreements, NGO's and academic institutions in over 25 different countries, specialised techniques, software and equipment were developed and used for the study of cetaceans, including porpoises, sperm whales, North Atlantic right whales, and other threatened marine species including monk seals and basking sharks.
MCR – Song of the Whale Team members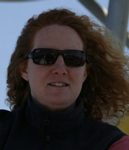 Anna Moscrop – MCR Director. Before joining IFAW in 1994, Anna worked as a consultant research scientist for organisations including Greenpeace, WDCS and several universities. She has a background in marine biology and conservation and expertise in a range of cetacean conservation issues, including noise pollution and marine habitat degradation. She has been overseeing SOTW projects since 1998 and has many years of experience of working offshore as well as project & team management.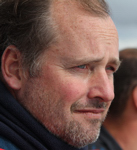 Richard McLanaghan – MCR Director. Richard is the Senior Skipper and Operations Director of the research vessel. He has a background in electronics and computer programming. He has been running Song of the Whale since 1992 and oversaw the design and build of the current research vessel.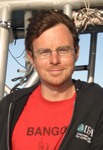 Dr Oliver Boisseau – Senior Research Scientist. Olly has a PhD from the University of Otago and over ten years experience of cetacean related field work and data analysis. He joined the SOTW team full time in 2004 and has been involved with MCR since its inception.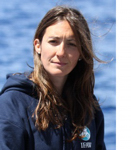 Anna Cucknell – Research Scientist. Anna joined the MCR team in April 2011. Anna has previously worked on cetaceans off the east coast of the USA, Sardinia, and Australia and has a Masters degree in Marine Environmental Protection from Bangor. In 2008 she returned to the UK and started work with an environmental consultancy on acoustic impact assessments for oil, gas and wind farm constructions as well as working as a Marine Mammal Observer and Passive                                               Acoustic Monitoring operative. Anna originally joined the team on a temporary basis                                     for the 2010 beaked whale survey off Ireland and Scotland.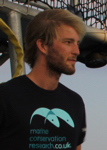 Edd Hewett – Second Mate. Edd grew up in landlocked Chesham in Buckinghamshire, almost as far away from the sea you can get in Britain,however first went sailing two years ago and loved it. He is now a qualified Commercial Yachtmaster and spends as much of his time as possible out on the ocean.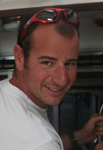 Mat Jerram – Engineer and First Mate. Mat joined the SOTW team in May 2007 as the boat's engineer. As well as formal qualifications in marine engineering, Mat has extensive experience in refitting and maintaining boats and has worked in Greece, Cote d'Azure, Australia and Scotland on various projects. Mat also worked as a ski instructor in premiere resorts in Europe and the USA before joining SOTW.
Brian Morrison – Skipper. Brian is a Yachtmaster Ocean Instructor and has worked in many aspects of the sailing industry including, deliveries, charters, flotillas, instructing and marine research. When not sailing he also works as a ski instructor and mountain leader. In his spare time he likes ski mountaineering, climbing and sea kayaking. Brian has worked with the team since 2011.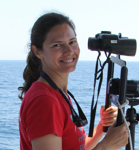 Miriam Romogosa – Associate Research Scientist. Miriam holds a Bsc degree in Biology from the University of Barcelona and is currently studying for a Masters degree in Marine ecosystems management. Previously, she worked as a PAM (Passive Acoustic Monitoring) operator and Marine mammal observer (MMO) at several offshore wind farm construction sites in the UK. In Spain, Miriam also worked for an organisation on a project that combined public awareness, social involvement and cetacean research to promote the conservation a marine area. She first volunteered for MCR in March 2012 and joined the team full-time in November 2012.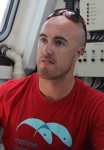 Dr Conor Ryan – Associate Research Scientist.  Conor joined the MCR team in April 2013. After studying zoology at University College Cork, Conor completed a PhD at Galway-Mayo Institute of Technology on the feeding ecology of fin and humpback whales in the Celtic Sea using stable isotope analysis. He has led research expeditions to Cape Verde Islands and continues to research the humpback whales at this poorly studied breeding ground. Conor has also worked and volunteered for many years with the Irish Whale and Dolphin Group.  Conor joined HWDT as Sightings and Strandings Officer in June 2014.