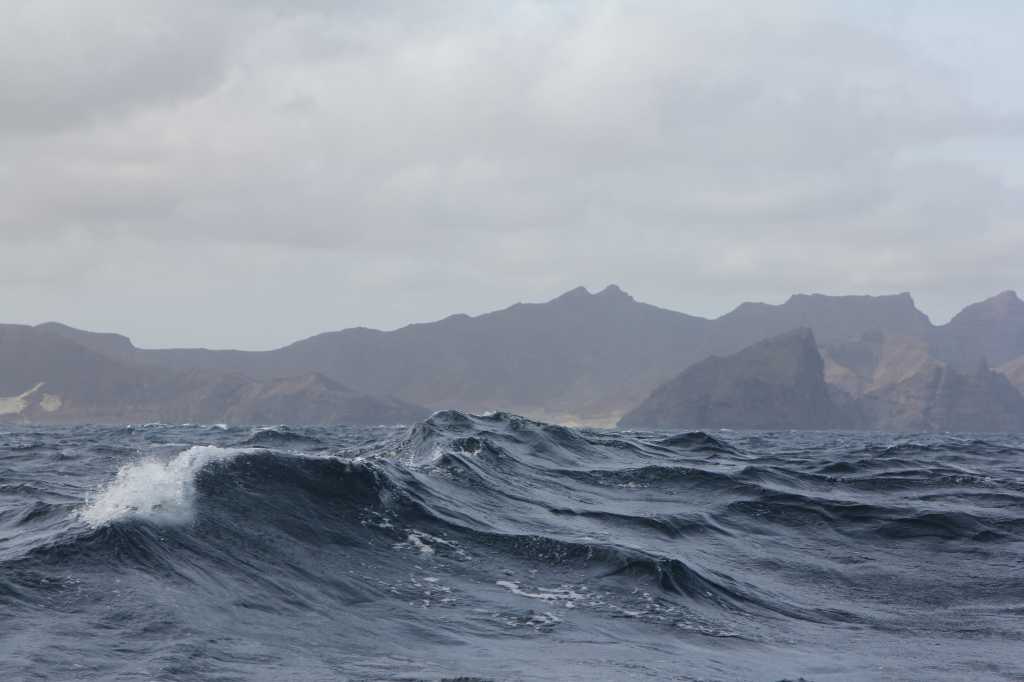 Another beautiful sunrise greeted Song of the Whale on Sunday 3rd December. We sailed west across the top of the Cape Verde archipelago, to make landfall later that day; our final stop before the Falklands.
In the last few days approaching Cape Verde we have seen lots of flying fish, they shoot away from the boat and glide for such long periods, up to a couple of hundred meters! Unfortunately a few unlucky ones land on the deck, which is always a nasty surprise for whoever finds them! The flying fish have also attracted Brown Boobies to the boat; it has been great entertainment as they try to catch the flying fish (most of the time failing miserably).
The 20 knots of wind, and reefs in the main and yankee (sails) added to the excitement of the morning. There was a haze on the horizon and some clouds in the sky but soon enough the spikey peaks of the islands of Cape Verde began to rise straight out of the choppy sea. We prepared for our arrival by pulling in the 400m hydrophone, and hoisting the Cape Verde courtesy and yellow quarantine flags. We were all enjoying the approach and just as Charlie went to brush his teeth squeals erupted out on deck; a Blainvilles beaked whale surfed down a wave right next to the boat! Yet another incredible sighting to add to the list!
Thoughts soon turned to what we may find in this new land. Kerry's Guidebook to Cape Verde had been passed around and we were expecting a mixture of cultural music, fresh local produce and potentially malaria carrying mosquitos. Cape Verde was new to all of us and it is so exciting sailing into a new port. It always differs massively from your imagination and what you interpret from the charts. It was beautiful to sail through such a rugged landscape (Not dissimilar to West Scotland Andy remarked).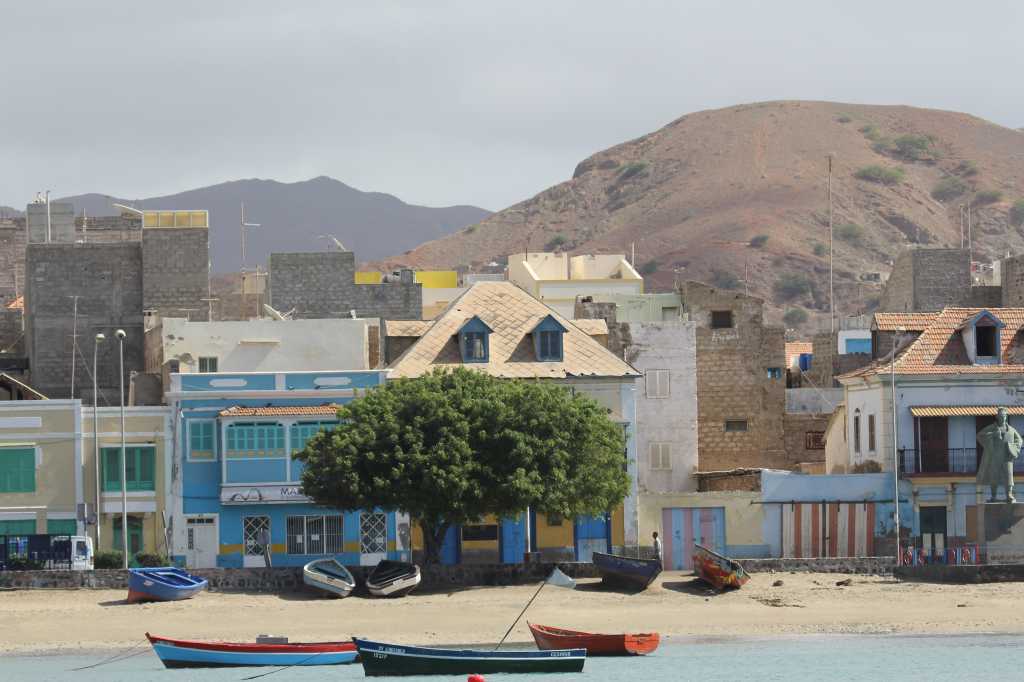 As you may have expected Cape Verde had a very African feel and felt so very different from Las Palmas. It had taken us six days to sail between the two groups of islands and this gives you a very different appreciation of time and distance compared to a quick hop on a plane. New places and cultures are so exciting to explore and experience, and sailing to places gives you a much more connected picture of our planet.
On arrival in Mindelo we cracked on with the jobs list. Cleaning the boat top to bottom, topping up with fuel, food provisioning and doing another massive laundry run were the main tasks for the crew. There was a conveniently placed floating bar in the marina which suited as a good meeting point before our evening meals. As there were only two shower cards you could tell who had had their showers first and who had been waiting the longest at the bar!
After two days on land, and a fully stocked and squeaky-clean boat and crew, it was time for the off. 4500nm nonstop to the Falklands Islands! Unfortunately Andy was leaving us at Cape Verde and so we had to say a sad farewell. He was great company on board and we have never heard as many terrible jokes in such a short space of time. However, every cloud has a silver lining and we get to welcome Jan onboard, her enthusiasm is so infectious and she has fitted straight in with the team.
Since our departure on December 5th we have had a beautiful four days of sailing, with 10 to 15 knots of wind on a broad reach, giving us 4-6 knots of boat speed. The four days have been crammed with new species; a beautiful red billed tropic bird, a leatherback turtle, 40 or so rough toothed dolphins and a 50- strong group of pan-tropical spotted dolphins, as well as jumping tuna!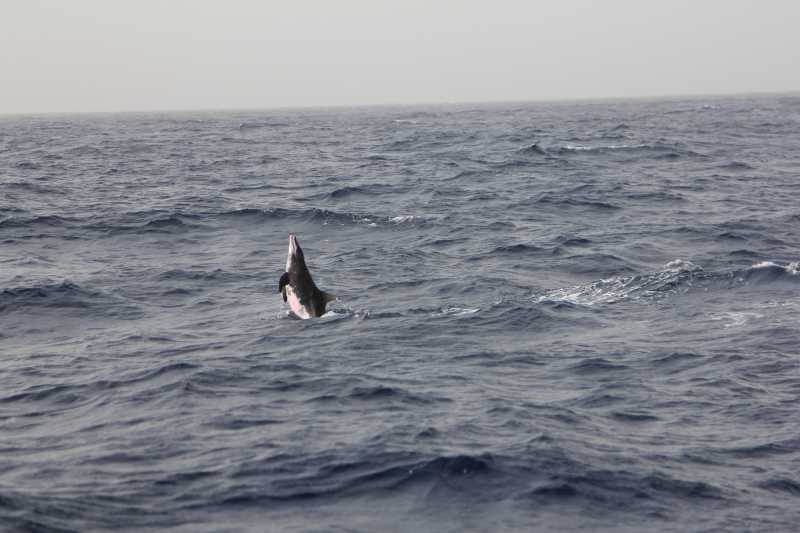 It is definitely getting hotter and more and more sticky as the Latitude decreases. There has been a haze in the air for the last two days, which has protected us somewhat from the intensity of the Sun, but needless to say we are all beginning to melt.
Spirits on board are high, we are working through the crew advent calendar (the person on washing up gets to open it), chatting merrily in the cockpit, and are loving this incredible experience, fingers crossed that the winds and whales continue!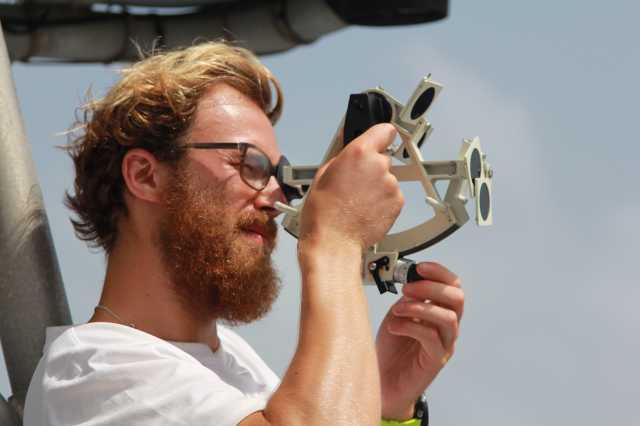 Charlie(beard).