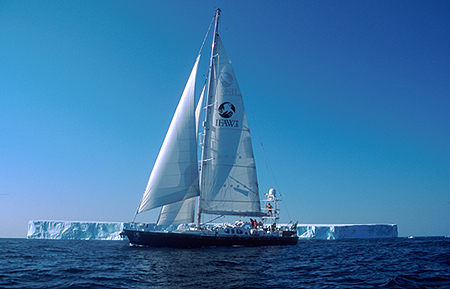 R.V. Song of the Whale is a purpose-built 21 metre research vessel suited to work in both coastal and offshore environments. Approved by Lloyd's Register under the Special Service Craft Rules as Service Group 6 (unrestricted service) and with an MCA Category 0 rating, Song of the Whale can operate in any ocean. The vessel is owned by Marine Conservation Research International  and is managed and operated by MCR Ltd.
The vessel is steel-hulled, with outriggers for towing hydrophone arrays, an 11 metre high crow's nest and an elevated A-frame which provides a 5 metre eye-height for visual surveying and a dedicated computer/communications room for acoustic detection and data logging.
There is comfortable, purpose designed accommodation for 10-12 people, with two bathrooms, a large saloon/galley area for meetings, meals and relaxing, a dedicated computer room, bridge deck with desk space and chart table. In addition there is a workshop (for building, repairing, maintaining and storing equipment), a large aft deck (with hydraulic winch) and folding dive platform (with access via steps to the water). The vessel carries two tenders (ZODIAC GRII with 25 hp 4-stroke engines) for trips ashore and exploration of less accessible regions.
Additional images of the vessel can be found in the Image Gallery.
Technical specifications of the vessel can be found here.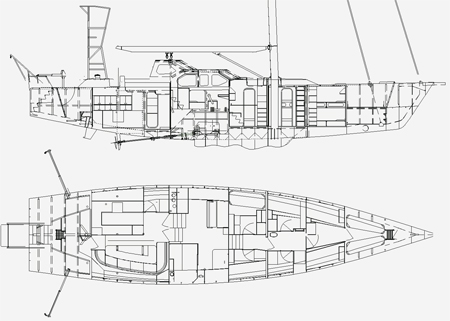 R.V. Song of the Whale – vessel specification
Registered Owner: Marine Conservation Research International
British Registered number: 908938
Port of Registry: London, UK
The vessel is fully equipped with the normal communications and navigation equipment found onboard a modern vessel (GPS, AIS, SSB & VHF radio and INMARSAT voice and data terminal).
Song of the Whale was designed and built in compliance with Lloyd's Register Rules and Regulations for the Classification of Special Service Craft.
Class notation: 100A1 SSC Workboat Mono G5
MCA Category: 0 (unrestricted).
Length: 21.53m
Beam: 5.6m
Draft: 3m
Air Draft 33m
Registered Tonnage: 51.58
Engine:   Yanmar 6LYA-STP 370 hp
Gearbox: Twin Disc MG-5061A  2.47:1  (5HV-571)
Propeller: 5 blade fixed 27 x 17  RH  APS SKEW100
Generator 1: Onan 9 Kw
Generator 2: Whispertech Whispergen 1Kw
AC power:   230V AC is provided for research electronics via two pure sine wave inverters, ensuring a clean uninterrupted supply.
Fuel Capacity: 3300L
Water Capacity: 1200L (100 L/hr Seafresh Watermaker)
Sail Area: 267 sq m
Operating speed under power: cruising 6.5 kts, maximum 9.5 kts.