In search of the North Atlantic right whale
14 day research expedition starting and finishing in Reykjavik, Iceland
23rd July to 5th August 2016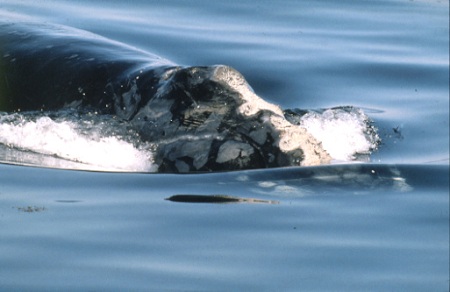 Join a research and discovery expedition searching for North Atlantic right whales off the coast of Greenland. The right whale was once found on both sides of Atlantic.  However, due to intense hunting in the 18th and 19th centuries; the numbers of whales became severely depleted, with some estimates stating that there may have been just four females of breeding age left. Over the last 50 years, the right whales on the west Atlantic have been slowly recovering, and now thought to number around 450 animals, however the eastern sub-population was thought until recently to be extinct.
In 2007 six acoustic recording buoys were deployed in the area known by whalers as the Cape Farewell Ground, between Iceland and Greenland. During the yearlong recording period, over 2000 right whale calls were recorded. Although this finding was significant, to date no one has managed to find out where and how many right whales may have returned to this area. This what these expeditions hope to discover!
You will join the research vessel Song of the Whale in Reykjavik, Iceland where we will set sail for the ice covered lands of East Greenland. After exploring icebergs and local wildlife we  will sail down the remote coast, landing by zodiac if ice conditions allow, before heading offshore to survey the Cape Farewell grounds searching for the elusive right whale before returning to Ísafjörður. During the expedition in addition to the right whales, we hope to encounter many other species of whale and dolphin including white-beaked dolphins, minke, blue, fin and killer whales.
This expedition is not for the faint hearted, overnight sailing and potentially rough arctic seas are possible. However, you will get the chance to explore an area few people are able to visit while encountering some of the most spectacular wildlife of the North Atlantic and Arctic.
Each expedition is limited to maximum of eight guests who can get involved with sailing the boat under the watchful eye of our experienced team on board.  You will also learn about the scientific and photographic techniques the team use to study wildlife at sea. You will be able to join in the research activities during the voyage, using hydrophone arrays to find and identify a range of different species of whale and dolphin, including blue, right and sperm whales. Scientific data collected during these expeditions will be analysed by the MCR team in addition to being shared with colleagues at the University of Iceland.
The cost per guest includes full board and lodging on R/V Song of the Whale, 3 meals/day in a shared 2 or 4 berth cabins. Travel to and from Song of the Whale is not included. Discounts are available for group bookings.
Eight berths available, £3,920 per person.
For additional information or questions please contact: MCRinfo@mcr-team.org
Return to Expeditions page.