In April 2014, Conor joined the German Research Vessel Meteor in Cape Verde to assist with the deployment of a static  recorder in partnership with GEOMAR and INDP. Our aim was to record the songs of male humpback whales, who migrate south from Iceland to the breeding grounds off Cape Verde, so the recorder was attached to a modularised oceanographic mooring 60 miles northeast of the island of Sao Vicente, which we hoped would be in the path of the migrating humpback whales. . The plan, if successful, was  to record the unmistakable song of male humpback whales, establishing their presence on the breeding ground in the spring months.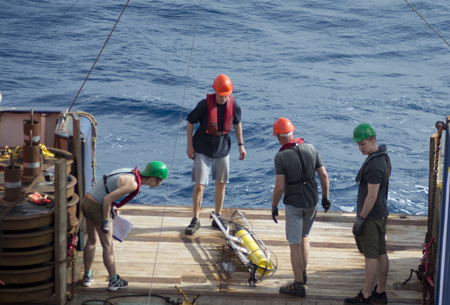 After an unprecedented 18 month deployment, at a depth of 600m below the chaotic surface of the Atlantic Ocean, the recorder has now been returned to us, 675 days after it first slipped in to the dark blue water and after a trans-Atlantic retrieval journey of over 10,000 miles.
Our task now is to discover if we  have any useful recordings after all this effort. Initial investigations have revealed that within the first 10 minutes of deployment we have captured  the unmistakeable downswept curves of a humpback whale song. So, the recorder has worked but will there be more whale calls, and what are the peak seasons for humpback whales in the CVI? The data set will hopefully reveal new insights into humpback (and other whale) presence, movements and activities in the region. For example, the presence of singing males in August/September may indicate that  a separate population of humpback whales from the southern hemisphere are migrating north to the CVI to breed in the same waters. Upon further analysis, our deep-sea dataset will tell us more; we will endeavour to identify differences between the two peak periods of song production to corroborate the notion that there are two different populations using the same breeding ground. This will help strengthen the case for increased protection of the breeding habitat.
Efforts are now underway to identify grant support for the data analysis required – this is a good, guaranteed investment for a funder, as the highly risky field work part of the project has been successful, and we know we have collected useful data. Watch this space for further updates…